The Candida Albican Cure Blog
I'm glad you decided to check out the Candida Albican Cure Blog . It will keep you up to date on all of the new pages I am writing and the new research that I am doing in the area of Candida albicans overgrowth.


Have You Subscribed Yet?
Take a minute to fill out this easy form, and you'll start receiving the Candida Albicans Cure Newsletter, starting with the next issue. In it, you'll find Candida diet tips, antifungal recommendations, healthy living tips and other great information that'll help you conquer your Candida albicans overgrowth.
If you would like a step by step checklist for treating your Candida overgrowth, including recommended brands and dosages, you will be interested in the book
"Candida Albicans - The Hidden Disease"
.
Nov 12, 2016
Candida is one Psoriasis Causes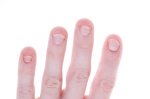 Candida is often one of the main Psoriasis Causes. Review the research and discover how to cure your psoriasis now!